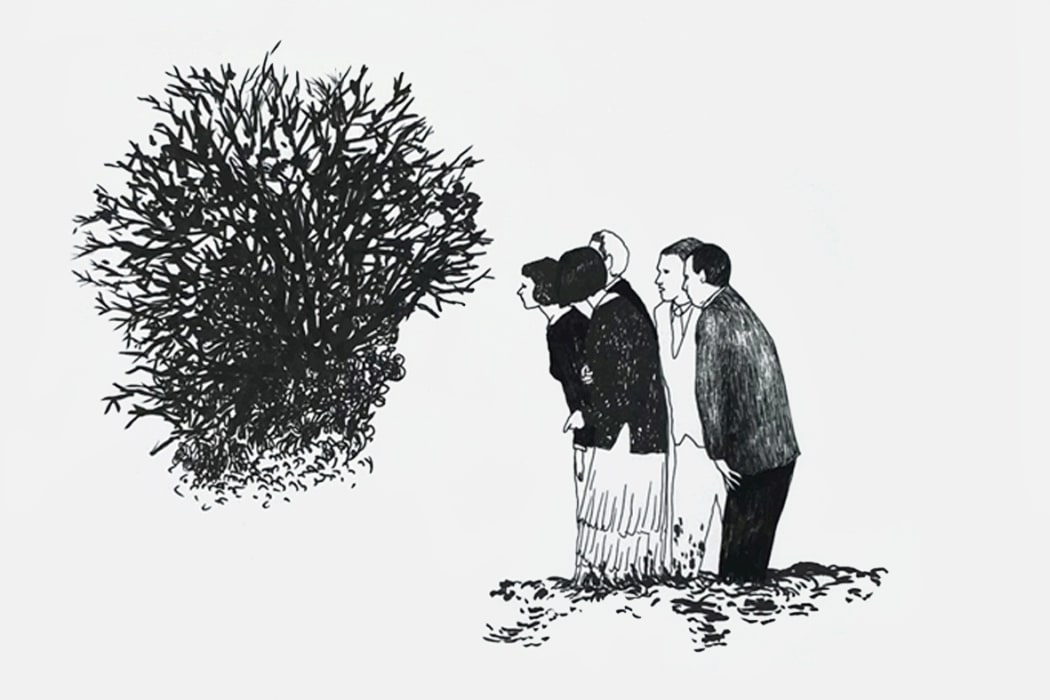 frequently
when i am sitting
on a chair
and i am alone
and have neither slept
nor have i eaten or drunk
i feel like falling into an abyss
tied to my clothing
and to my chair
and of softly dying
caressing my clothing
and my chair
i have the sensation
of falling into an abyss
and unexpectedly attending
a faraway party
in the depths of a star
and of dancing at it
tenderly
with my chair

Jorge Eduardo Eielson

Why are exhibition openings so boring? Why do we still attend them? What makes us leave our comfy armchair? Curiosity for the new work of an artist we are interested in, the possibility of meeting a friend or the wish to broaden our social relationships?

If what we expect to find is an aesthetic experience, we all know that the opening day is the worst one to enjoy it. Too many people, too much noise, too many distractions. Some of us believe that during inaugurations something else should happen other than just bringing the curtain down. The inauguration of an exhibition as if it were a dam, showing the completed work, well-done, useful to society, is not getting enough of it. The exhibition visitors are barely told to be there, in a good mood, cheerfully greeting one another and eating the rare appetizers without losing their poise. We speak about activating the works when a performance, an intervention or a concert inspired or related to them is organised. What is unusual is the inauguration of deactivated works or exhibits. It sounds to me like decaffeinated coffee, non-alcoholic beer or marihuana without THC. Then, what is so funny here?
If what is interesting is to meet our artist friends, or friend artists, perhaps it will be good for you to know that there is an artist in Barcelona that -according to him- keeps an up-to-date register of every relevant person that he gets to know at inaugurations. Every record includes the name of the person and their contact details, email address or telephone number; in which gallery, art centre or museum they met; a transcription of the chats they had (often secretly recorded with his mobile phone). If he has established a bond of trust with this person or bumped into them at another shindig, the artist includes this additional information as he gets to know them better: sexual preferences, admired artists, secret wishes, significant achievements, anniversaries or the names of their lovers. By means of this pastime, the artist hopes to finally, when some years from now he will disclose this information, be somehow acknowledged in the world of art. I think that this register is the most important work by this artist. Who will organise the inauguration of his exhibit?

If what is interesting to us are social relationships, and in case we cannot stand the sneakiest ways of hypocrisy, it is now time to learn that to perform is a serious skill, a solemn action that involves both the body and the spirit. The actors of the cultural scene must carefully and diligently get ready to play their social role. Be they art collectors, artists, columnists or upstarts, some stretching before entering, some breathing or taking a couple of sips from the hipflask without anybody seeing them are essential because acting not being prepared for it may backfire. Now is the moment to take a step forward and appear on the stage, the gallery or the museum. With observation skills and some ability to weave through the people, all of a sudden one may approach a stranger unexpectedly and capture their attention for enough time to introduce oneself. Unexpectedly, a whole series of feelings arise: acceptation, approval, self-confidence. One must hold them in situ. There is no dressing room where to withdraw to and rest in. It is a unique show and people will judge you according to your performance. Good luck.

Maybe we should attend vernissages with another attitude, as if we were attending a party and not an event. It could be a way of putting aside our ego, to focus our attention and forget ourselves for a while. Events are the consumerist version of a party. In the course of an event, neither closer ties are achieved, nor a community network is generated. But at a party they do. "The time of a festivity is a sublime time", writes Byung-Chul Han in The disappearance of rituals, a text where he regrets the loss of rituals at the altar of the sick obsession for ongoing communication. "Who gives oneself up to rituals must forget themself. Rituals generate a distance from oneself, it goes beyond one's self. They empty the psychology and the inwardness of their actors."

Let us keep the time of the vernissage so that it becomes eternal. Let us be intense, we are here, let us connect.

What really was is not lost. Intensity is a form of eternity.
(Jorge Luis Borges)

(English translation: Béatrice Krayenbühl)